New Cases: There are six new cases of COVID-19 confirmed in the Gaspé Peninsula and Magdalen Islands. This brings the total number of cases in the region to 1,663. Six individuals are currently hospitalized as a result of COVID-19.
---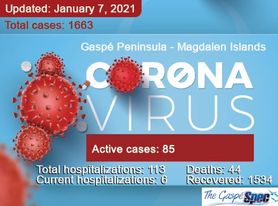 New cases:
1 – Avignon MRC
2 – Rocher-Percé MRC
1 – Côte-de-Gaspé MRC
2 – Magdalen Islands
---
Active cases
There are currently 85 active cases in the region:
Avignon MRC – 15
Bonaventure MRC – less than 5
Rocher-Percé MRC – 49
Côte-de-Gaspé MRC – 16
Haute-Gaspésie MRC – less than 5
Magdalen Islands – less than 5
---
Vaccines: Number of administered doses of the vaccine in the Gaspé Peninsula and Magdalen Islands: 815
---
January 7 press conference:
During an early afternoon press briefing by Deputy Premier and Minister of Public Safety Geneviève Guilbault elaborated on the new regulations including the curfew that will come into effect on Saturday. For a complete list of activities that are permitted, along with exceptions please visit this page: https://www.quebec.ca/en/health/health-issues/a-z/2019-coronavirus/confinement-in-quebec/
It is important to note that police officers will be enforcing the health measures and can intervene when individuals are not in compliance. Fines will range between $1000 and $6000, and youth aged 14 and up are subject to a fine of $500. Employers are asked to complete a form attesting that their employees are legitimately travelling outside curfew hours. That form (available in French only) is available on the website listed above.
Upcoming dates to remember:
Friday: Press conference regarding COVID-19 and the schools.
---
Provincial numbers:
Total cases 220,518
Total new cases +2,519
Recovered cases 186,996
Total deaths 8,562
New deaths +74
Current hospitalizations 1,380
New hospitalizations -13
Total individuals in ICU 202
New individuals in ICU 0
Total vaccinations administered 48,632
New vaccinations administered +9,960